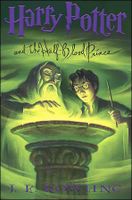 The witching hour has come and gone and, according to those who count, this penultimate Harry Potter book (
Harry Potter and the Half-Blood Prince
) is on its way to break the records. It is "a
novel
that depicts Harry Potter, now 16, as more alone than ever - all too well aware of loss and death, and increasingly isolated by his growing reputation as 'the Chosen One,' picked from among all others to do battle with the Dark Lord, Voldemort."
The wizarding world is at war. And as the sixth of seven books finally solves some of the riddles and ties up loose ends of when, how and who, all us kids around the world who care have a chance once more to escape into the fantasy world of JK Rowling's incredible mind (
6/27
post).
Interestingly, "the terrible things that Ms. Rowling describes as being abroad in the green and pleasant land of England read like a grim echo of events in our own post-9/11, post-7/7 world and an uncanny reminder that the Hogwarts Express, which Harry and his friends all take to school, leaves from King's Cross station - the very station where the suspected London bombers gathered minutes before the explosions that rocked the city nine days ago."
Fantasy? The "far darker tale" is suddenly "as improbable and as mortal as our own."