To start with, you can't live in this house without being surrounded by sport in one form or another. Athletic sport, I mean (of course), be it tennis, football, baseball, basketball, softball, soccer or whatever it is today. Men and women's both!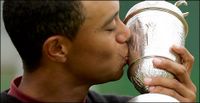 Today's sport
du jour
is like a past, present and future of what's happening right now.
Yesterday
TIGER WOODS cemented his status as the best golfer in the world with a five-stroke victory over Colin Montgomerie of Scotland in the 134th British Open. Only he is now tied with Jack Nicklaus as having won all four majors twice...and he's only 29, my son's age! Nicklaus is 55.
Today
LANCE ARMSTRONG is resting before starting his second week of this year's Tour de France, hoping to make it his 7th (and last) consecutive victory. Right now he's 2:46 minutes ahead of his closest competitor and should reach his goal, barring any catastrophy. He beat testicular cancer in 1996 and has since been awarded virtually every sports honor there is, becoming a symbol of hope and inspiration.
Tomorrow
it'll be MICHELLE WIE, just watch. Last week she made history as the first woman to qualify for the men's United States Amateur Public Links Championship. And she's only 15! If or when she makes a cut at the PGA tour, competing with men, she'll make history again. But perhaps more importantly is if she will become to women's golf what Tiger has become to men's golf.
Full circle. Tiger, Lance, Michelle, Tiger. For today, right now, Tiger has won and deserves all the honors he can get. You go, Man! Hopefully Lance will follow suit. And then Michelle?