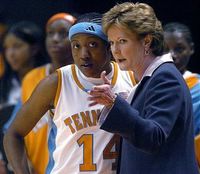 Kudos to Patricia Sue Head Summitt and all women everywhere who break records!

She did it! As coach of the Lady Vols at Tennessee, last night she won her 880th college basketball game, breaking North Carolina men's coach Dean Smith for the most victories in NCAA history. "The 52-year-old Summitt improved to 880-171 in 31 years at Tennessee, while Smith was 879-254 when he retired in 1997 after 36 years with the Tar Heels."

To top/'summitt' it off, last night, totally unbeknownst to her, "Tennessee unveiled the new name for its court. The hardwood at Thompson-Boling Arena will be called "The Summitt" in a fitting tribute to the coach who stands alone at the top of NCAA basketball."

Don't you love it! Even though my druthers are for the Michigan State women to get to the Final Four--heck, to the final two--I'll have to say that with this record for Pat, she deserves to win the tournament as well. (Sorry, Ruth--I'll still root for you getting to play against her!)

You go, Girl!