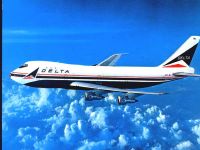 Donica's turn to fly was this past Sunday, to Amsterdam; my turn is today, first to Cincinnati, then to Paris and then to Hannover, Germany, arriving tomorrow. The Frequent-Flyer miles' way! Donica will join me in Germany on Thursday.
In 1940 Delta was the "Airline of the South." In 1968 they adopted the slogan "Delta is ready when you are." In 1987 it became "We love to fly, and it shows." Atlanta is Delta's hub, so we're pretty much aware of their aches and pains these days. A lot of struggling to overcome.
However, in the meantime, we fly the friendly skies (if I may borrow from United, shame on me!), shrinking our world as we do so. We're still but a phone call or e-mail or blog post away.
Come find us with your
Guten Tag
at any time. We'll welcome you to the day, six hours ahead, till the end of the month.