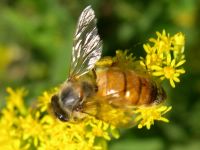 Yesterday's calendar quote for my day was this from Mary Kay Ash:
Aerodynamically the bumblebee shouldn't be able to fly,
but the bumblebee doesn't know that so it goes on flying anyway.
That reminded me of this photo Ted Roth (6/23 post) took and sent me a couple weeks ago. I love it. Thanks, Ted and Mary Kay.
Then this morning, wouldn't you know it, Nicholas and I watched the movie Racing Stripes while Donica caught some more z-z-z's and (speaking of zees) saw a zebra who thought he was a race horse until someone made fun of him and told him he was only a zebra. "A ZEBRA? I thought I was a race horse! Why didn't anyone tell me?"
Sounds like 2 stories for a good Sunday sermon, Dad!